Paparoa Park Motel is your ideal accommodation choice for enjoying the magnificent Paparoa National Park.
The starting point for the 20 minute loop walk to the famous Pancake Rocks and Blowholes is 1 km from your motel.  Looking like giant pancakes the curious limestone formations are especially spectacular at high tide in a westerly sea.
Tracks and Walks
Nearby are easy, coastal walks featuring the most popular Pancake Rocks and Blowholes walk, suitable for families (20 minutes return), and the other Truman Track (30 minutes return).
Truman track begins in the beautiful sub-tropical rainforest of ferns, nikau palms, rimu, etc. Nearing the coast it passes through typical West Coast coastal flax flats before emerging onto a coastal headland with stunning views up and down the local coastline.
Longer walks include the Pororari River Track which follows a spectacular limestone gorge (2 hours 30 minutes return) The only overnight walk in the park is the Inland Pack Track which dates back to gold rush days. See all the 78 scenic Buller walks & hikes
Punakaiki Canoes
With Punakaiki Canoes, you and your family (even beginner paddlers) can enjoy the peaceful Pororari River and lagoon with its majestic limestone gorge and lush rain forest.
Punakaiki Horse Treks
5 minutes away, join Punakaiki Horse Treks.  Take an invigorating horse trek along the beach to the foot of the Pancake Rocks, ride into the spectacular Punakaiki river valley, within the Paparoa National Park.
Underworld Adventures
With Underworld Adventures, float through incredible Glow-worm lit caves and have fun bouncing down the Nile River rapids.
Nature Tours
Choose a specialised guided tour with Nature Tours and listen to your guide weave their story lines while you enjoy Paparoa National Park's fascinating culture, history, geology, flora & fauna.
Active Adventures New Zealand Hiking Tours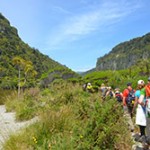 Active Adventures New Zealand have been offering exceptional adventure tours since 1996.
Hike, bike and paddle around the country with incredible Kiwi guides and enjoy sumptuous home cooked meals.
Active Adventures New Zealand are proud to use Paparoa Park Motel on our Ultimate South Island Adventure 'Rimu',
South Island Explorer 'Kiwi', Milford Hiking Adventure 'Manuka' and New Zealand Winter Adventure 'Winter Rimu'.